Yes, the much anticipated (…) strip for the upcoming season at Aberdeen Football Club has finally been unveiled. Apex Tubulars' and Acergy's shirt and short sponsor deals ran out at the end of last season so it was time for a new name on the famous red. The low key press conference took place at noon on Wednesday and when the curtain was dropped the new sponsor was revealed as Team Recruitment.

Stuart Duff and Lee Mair showed off the new home and away kit.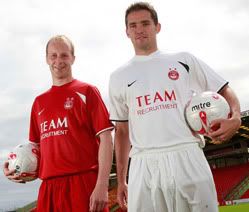 Picture courtesy of afc.co.uk.

Immediately, those guys on the messageboards raged that once again we wouldn't have a 'big name company' on our strip. Er, is it not obvious why? Team have obviously offered more money than any of the 'big name companies' like Shell and BP. Do people seriously just want a 'big name company' on the strip and turn down higher offers from less known companies just because they are less known?

As far as the look goes, I'm not too keen on the home strip to be honest, but I'm sure I'll get used to it over the course of the season. I think last season's one was better material and design, and the new random flash near the shoulder looks a bit cheesy at the moment at least. The away kit is just confusing. Why is the Swoosh and flash black but the badge and sponsor red? I'd prefer black on white than red on white, although any two sets than three! However, I'm sure I'll still end up buying the first, before quickly deciding to buy the 2nd too.

RedWeb claims that the new deal with Team is 'record breaking'. I'm not sure in what but I'd guess in terms of money offered, with an interview on RedTV saying part of the new deal will go straight into Jimmy Calderwood's transfer budget for this summer and winter. And when Calderwood has had money to spend, it generally seems to be spent quite wisely, on players such as Barry Nicholson and Steve Lovell. Hopefully he can put it to good use again before the transfer window closes at the end of August.

And I'll quickly fit it in where I can, the fixtures for the new season are released on the 16th June, while the season kicks off on the 9th August.

What are your thoughts on the new kit? Leave a comment below.